Cadence Design Systems, Inc.: Investment Thesis
In my Dec. 30, 2021, article, "Cadence Design: Take Profits Now," I wrote:
While the higher EPS for 2021 is pleasing, analysts' consensus EPS estimates reflect EPS growth rates of 9.5% for 2022 over 2021, and 10.6% for 2023 over 2022. Those growth rates do not justify a P/E ratio of 44.50, let alone the current P/E multiple of 58.3. In addition, concerns relating to Cadence Designs' "Leaky Equity Bucket" remain. Readers might notice, despite my obvious "Bearish" remarks on Cadence Design share price in my previous article, I placed a "Neutral" rating on the stock. My reason for this was an understanding and acknowledgment the momentum of "meme" type stocks, such as Cadence Design, can lift the share price far above fair value. However, I look at the share price of popular stocks with a "good story," such as Fiverr (NYSE:FVRR), which climbed from $196.91 on Dec. 08, 2020, to peak at $336.00 in 2021, but which has now fallen to $113.59 as reality has set in. I expect it's likely Cadence Design share price will likely follow a similar trajectory.
Since that article, the Cadence Design Systems, Inc. (CDNS) share price has fallen by 20.61%, compared to a fall of 10.87% for the S&P 500 over the same period. On the positive side, Q4 2021 non-GAAP EPS of $0.82 beat by $0.04, and SA Premium analysts have increased their forward EPS growth rate estimates out to 2024 by a couple of percentage points. If the higher average EPS growth rate can be maintained in the long term beyond 2024, the present P/E ratio of 45.59 could progressively decrease to a more reasonable level. But, that's provided share price growth and thus return is limited to single digits. The other matter to be concerned with is non-GAAP EPS appears to be overstated by the exclusion of stock compensation expense, which is a material expense. Whatever arguments might be made for exclusion of stock compensation expense from non-GAAP earnings constructs, there is one undeniable fact. Stock compensation is a form of distribution out of earnings which does not flow to the benefit of the common stock shareholders, and thus reduces shareholder returns. Despite the lower share price, and analysts' upward revisions of EPS growth rate estimates, I rate Cadence Design Systems a Sell (previously rated a Strong Sell). Further falls in the share price could improve the rating to Hold. A detailed financial analysis appears below.
Before going further, I should explain a little about the Dividend Growth Income+ Club approach to financial analysis of stocks.
Understanding The Dividend Growth Income+ Club Approach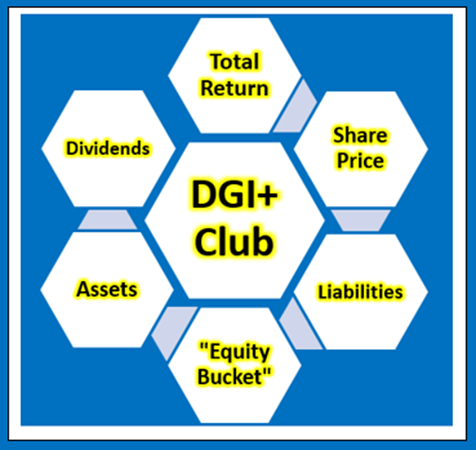 Total Return, Dividends, Share Price
The only way an investor can achieve a positive return on an investment in shares is through receipt of dividends and/or an increase in the share price above the buy price. It follows what really matters in share value assessment is the expected price at which a buyer will be able to exit shares, and expected cash flow from dividends.
Changes in Share Price
Changes in share price are driven by increases or decreases in EPS and changes in P/E ratio. Changes in P/E ratio are driven by investor sentiment toward the stock. Investor sentiment can be influenced by many factors, not necessarily stock-specific.
"Equity Bucket"
Earnings are tipped into the "Equity Bucket" for the benefit of shareholders. It's prudent to check whether distributions out of and other reductions in the "Equity Bucket" balance are benefiting shareholders.
Detailed Financial Analysis –
Cadence Design: Historical Shareholder Returns
In Table 1 below, I provide details of actual rates of return for Cadence Design shareholders investing in the company over the last six years.
Table 1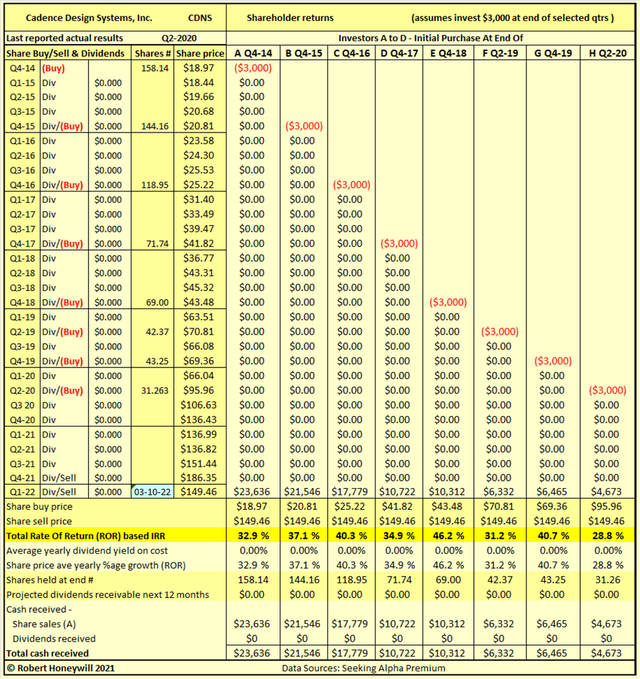 Table 1 shows returns have been excellent for eight different investors buying shares in Cadence Design over the last six years. Returns range from an average 28.8% per year to 46.2% per year. The rates of return in Table 4 are not just hypothetical results. They're very real results for anyone who purchased shares on the various dates and held through to the present. In the above examples, the assumed share sale price is the same for all investors, illustrating the impact on returns of the price at which an investor buys shares. Also note, Cadence Design does not currently pay a dividend. So, the only way an investor can achieve a positive return on an investment in Cadence Design shares is through an increase in the share price above the buy price. The share price has retreated significantly since my previous article on Cadence Design, and although returns are still high, they have shrunk considerably.
Checking Cadence Design's "Equity Bucket"
Table 2.1 Cadence Design Group Balance Sheet – Summary Format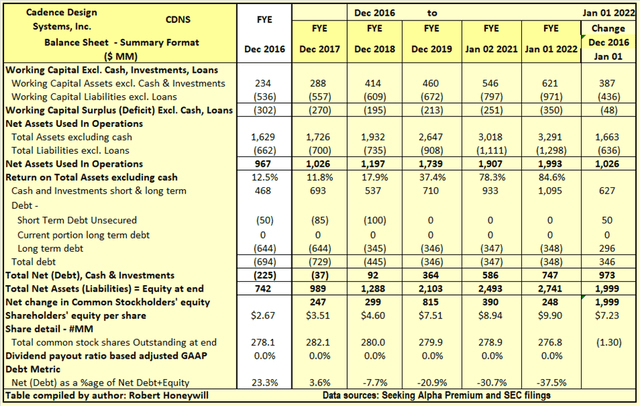 Period Jan. 1, 2017, to Jan. 1, 2022 (5 years)
Table 2.1 shows Cadence Design has increased net assets used in operations by $1,026 million and cash net of debt by $973 million over the last five years. The increases were funded by a $1,999 million increase in shareholders' equity. The $1,999 million increase in equity over the last five years equates to an increase of $7.23 per share. Over the same time frame, share price has increased by $124.24 per share from $25.22 to $149.46. The $1,999 million increase in shareholders' equity over the last 5 years is analyzed in Table 2.2 below.
Table 2.2 Cadence Design Balance Sheet – Equity Section
I often find with companies, while they produce earnings that increase shareholders' equity, significant amounts of distributions out of, or other reductions in equity, do not benefit shareholders. Hence, the term "leaky equity bucket." I find this is of concern with Cadence Design, as explained below.
Explanatory comments on Table 2.2 for the period Jan. 1, 2017, to January 01, 2022:
Reported net income (non-GAAP) over the five-year period totals to a profit of $3,233 million, equivalent to a diluted net income per share of $11.55.
The non-GAAP net income excludes $407 million of net expense regarded as unusual or of a non-recurring nature, in order to better show the underlying profitability of Cadence Design. These adjustments increase reported non-GAAP EPS over the five-year period by $407 million ($1.46) per share. This $354 million can be further analyzed into a tax benefit of $576 million and excluded costs and expenses of $983 million. The majority of this $983 million relates to the exclusion of stock compensation expense from the calculation of non-GAAP earnings. The appropriateness of such exclusion is discussed in more detail further below.
Other comprehensive income includes such things as foreign exchange translation adjustments in respect to buildings, plant, and other facilities located overseas and changes in valuation of assets in the pension fund – these are not passed through net income as they fluctuate without affecting operations and can easily reverse in a following period. Also included here are some adjustments to reflect adoption of new accounting standards. For Cadence Design, these items were positive $76 million and increased EPS by $0.27 over the 5-year period.
The amounts recorded in the income statement and in shareholders' equity, for equity awards to staff, totaled $1,192 million ($4.26 EPS effect) over the 5-year period. Stock awards over the five-year period resulted in 26.4 million shares issued to staff. But, as with many corporations, Cadence Designs excludes stock compensation expense from its reported non-GAAP results. Furthermore, over the five-year period, Cadence Designs slightly more than offset the shares issued to staff by repurchasing 27.7 million shares at a cost of $2,094 million. Based on share price at time of issue the true cost of stock compensation is estimated at ~$1,569 million. This excluded stock compensation expense is equivalent to nearly 50% of reported non-GAAP EPS over the five years, so in accounting terms, it's a material overstatement of results. This is not a matter unique to Cadence Design. This Ernst & Young publication on Returning capital to shareholders, expresses a similar concern:
Companies seek to offset executive compensation dilution. Buybacks can replace the shares or fund the options that companies award as compensation. A director recently cautioned that this practice could cause companies to inadvertently increase the cost of executive compensation plans: "If we are using hard dollars to offset stock dilution, we should treat those hard dollars as a compensation expense. Otherwise we are not recognizing what we are actually spending to compensate our people."
By the time we take the above-mentioned items into account, we find, over the five-year period, the reported non-GAAP EPS of $11.55 ($3,233 million) has decreased to $9.01 per share ($2,524 million) Net Income From Operations. Cadence Design has a "leaky equity bucket." Over the last

five

years a considerable portion of earnings has been distributed to other than shareholders, by way of share issues to staff, with no recognition of this in reported non-GAAP earnings. Stock compensation is not the issue here. The issue is overstatement of underlying earnings. If staff were remunerated at the same level, but wholly in cash, there is no question the whole remuneration cost would be included in arriving at non-GAAP earnings. If that were the case, the reported P/E multiples would be even higher than at present.
Issues of shares to remunerate staff has effectively raised additional capital of $1,569 million, which together with Net income from operations totals to $4,093 million. Of this $4,093 million, $2,094 million has been spent on share repurchases leaving a balance increase in equity of $1,999 million ($7.23 per share) per Table 2.1 above.
Determining Profit Based On Change in Equity
Profit can often be best measured by change in equity adjusted for any capital raised and any distributions to shareholders. The $7.23 increase in equity per share over the five-year period is $4.32 less than reported non-GAAP earnings of $11.55. This $4.32 shortfall is not due to any distributions to shareholders. There have been no dividends paid, and while share repurchases are often described as distributions to shareholders that cannot be the case here. The number of outstanding shares has hardly changed over the five-year period, due to repurchases mostly being offset by issues to staff. The $4.32 shortfall against reported profits is a classic case of a "leaky equity bucket." If profits for Cadence Design were based on the portion of earnings flowing to the benefit of shareholders, reported earnings would be far lower, and the already high P/E multiple would be far higher.