This week we're all about fruit beer, or in some cases fruit in beer — which feels almost akin to wine's kissing cousin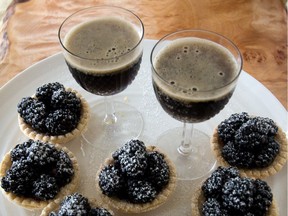 Reviews and recommendations are unbiased and products are independently selected. Postmedia may earn an affiliate commission from purchases made through links on this page.
Article content
It's a little detour for this week's Wine Guy, though really it's far from a complete 180. For while beer (which has been covered before) is a far different fermented potable, this week is all about fruit beer, or in some cases fruit in beer — which feels almost akin to wine's kissing cousin. Grapes are a type of fruit after all, so in a sense adding fruit to the brew kettle better aligns the malted barley and grains with wine. At least that's the theory, or an attempt at an excuse! Regardless, here are three local fruit-infused beer worth getting into your glass.
Article content
Steamworks Brewing Co. 2022 Kirsche Cherry Wild Ale, Burnaby ($10.09 for 750mL bottle, #400856)
There's been a noticeable influx of fruit beers hitting shelves. It makes sense on a number of fronts: Fruit beer is a time-honoured brewing style that is no doubt exciting for local brewmasters to get into creatively. Not to mention we are fortunate to have an abundance of locally grown fruit. As part of their Barrel Aged Series, Steamworks recently released their 2022 Kirsche Cherry Wild Ale. Brewed with 3,000 pounds of Okanagan Bing and Rainier cherries, this bottle-conditioned, Belgian Kriek-inspired beer blends half-year-old ales aged in neutral oak barrels. The result is fulsome yet tart, with red fruit, a pronounced nuttiness and a touch of palate-teasing funk.
Article content
Bottom line: A-, Complex and contemplative.

Steel & Oak Brewing Co. Escapade Pineapple Orange Farmhouse Ale, New Westminster ($17.83 for four-473mL cans, available through the brewery and select private liquor stores)
Admittedly, pineapple and orange are far from locally grown fruits. But New Westminster's beloved Steel & Oak is certainly a local stalwart brewery, and the inclusion of these "exotic" fruits definitely provides this brew with a punchy, citrusy stance (the orange being more prominent than the pineapple). The inclusion of a sprinkling of sea salt provides this multigrain farmhouse ale (barley, spelt and oats) an almost downright savory stance, with a hint of salinity enhancing its lingering, tart finish. Given its lip-smacking sensibility and reasonable 4.4.-per-cent alcohol content, Escapade has lined itself up quite nicely to pair with the escapades of summer, be they picnic or camping focused.
Article content
Bottom line: B+, Summer-ready.

Dageraad Brewing Enology Series No. 01 Syrah Saison, Burnaby (from $14.75 for 750mL bottle, available through the brewery and select private liquor stores)
What happens when the worlds of beer and wine collide? We end up with something like Dageraad's Enology Series, their first offering of which offers up a multigrain Saison (barley, buckwheat, spelt and oats) conditioned for six months in red wine barrels followed by a stint on Syrah pomace — that is, the grape skins and such leftover from making a Syrah wine — in this case from the Okanagan's Painted Rock Winery. Dageraad explains that this is the Burnaby brewery's "effort at hybridizing the flavours of beer and wine." And to be fair, it presents an intriguing sipping experience: Engaging tartness and slight funkiness complement a dry, almost earthy and slightly tannic style alongside a smoothed-out, balanced finish.
Article content
Bottom line: B+, Delicious mash-up!
---
The Swirl: Whistle Buoy Brewing Company's Whistlemania
Keeping to the theme, what's better than beer? Well, an all all-day music and beer festival featuring local food vendors and live wrestling and music, of course. Which happens to be taking place at Whistlemania from 2 pm to 10 pm on Saturday, June 25 in Victoria's Market Square Courtyard, an event hosted by Whistle Buoy Brewing Company to celebrate the brewery turning three years old. Yes, a full wrestling ring will be featured, with live action paired with beer and provisions from the Wandering Mollusk, Los Panas Kitchen, Hey Happy. Tickets are $55.00 (plus fees). For complete details and to purchase, head to www.whistlebuoybrewing.com
Wine Guy: Cheers for Chenin

Wine Guy: What the sur lie?
---
More news, fewer ads, faster load time: Get unlimited, ad-lite access to the Vancouver Sun, the Province, National Post and 13 other Canadian news sites for just $14/month or $140/year. Subscribe now through the Vancouver Sun or The Province.